Submitted by Paul on Mon, 01/31/2011 - 19:40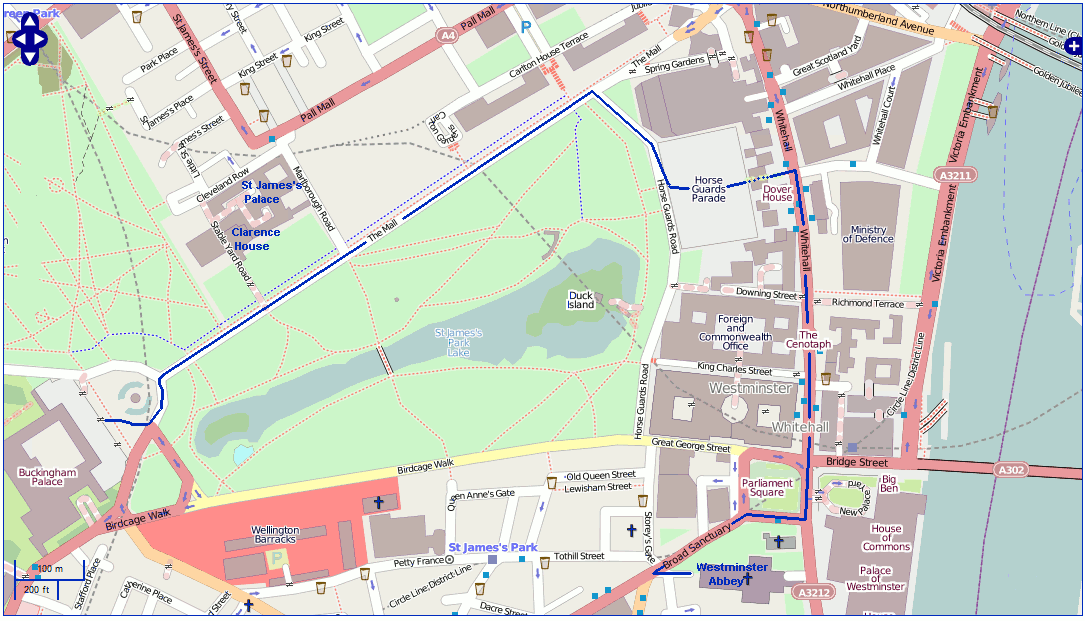 Royal Wedding Route Map
Click to open full sized image in a new window
Based on a map from OpenStreetMap
Important for anyone wanting to follow the special event on TV, and particulary vital for anyone intending to be in London to cheer on the happy couple on the big day, we can now give you a special map of the processional route and times for Catherine's journey from Buckingham Palace to Westminster Abbey, Prince William's journey from St James' Palace and their return together back to Buckingham Palace as husband and wife.
The wedding party's journey is due to begin at 10.30 am on the big day, 29th April 2011, with the bridesmaids and pages leaving Clarence House by car. Clarence House itself is currently the official home of Prince Harry,as well as being that of Charles, Prince of Wales, and Camilla, Duchess of Cornwall. It is located partway up The Mall and off to the left as you travel away from Buckingham Palace (North of the Mall in other words) and is named in Royal blue on our map.
Shortly after the Bridemaids and Pages have left Clarence House, the Queen and other members of the Royal Family (but not Princes William or Harry) start off at 10.35 from Buckingham Palace on their journey up The Mall. Prince William, and his supporters including Prince Harry will depart from St James's Palace (which adjoins Clarence House and is also denoted in blue partway-up and North of The Mall on our map) at 10.40.
Ten minutes later, at 10.50, Catherine will depart from Buckingham Palace, accompanied by her father, Michael Middleton. Unlike Prince William's mother, Diana who travelled to her wedding in 1981 by the Glass Coach, Catherine will journey to Westminster Abbey by Royal limousine (don't worry though folks, there will be more spectacle on the bride and groom's return journy after they are married), It is thought that the decision for Catherine to travel by car may partly be inspired by the desire not to make the event overly-lavish in the current economic situation in which England currently finds itself. Other reports also say that the student riots of a few months ago may also have had a bearing on the decision, with Catherine or her advisors possibly being anxious that the bride arrives unruffled and on time at Westminster Abbey with the least possibility of any potential upset from any individuals or groups who may wish to spoil the occasion.
Catherine's journey to her wedding will take her up The Mall, through Horse Guards to Whitehall, then past The Cenotaph, around Parliament Square to Broad Sanctuary where she will then arrive at Westminster Abbey. Inside the Abbey, up to 2,200 guests will be in attendance for the wedding ceremony which is due to start at 11.00 am. The Dean of Westminster, The Very Reverend Dr John Hall will conduct the ceremony, and the Archbishop of Canterbury, the Most Reverend and Right Honourable Dr Rowan Williams will officially marry William and Catherine. The address will be given by the Bishop of London, the Right Reverend and Right Honourable Richard Chartres.
The service is expected to last an hour, then at 12.00 midday William and Catherine will emerge from Westminster Abbey as husband and wife. If you're in the crowd outside Westminter Abbey or along the route, and you've not taken any photographs until now, this is when you'll really want to get your camera ready because the happy couple's journey of back to Buckinham Palace will be really picturesque. Travelling in a horse-drawn carriage, Prince William and Catherine will take the same route together back to Buckingham Palace as Catherine had originally journey on her own just over an hour ago, and shown in Royal blue on our map. The leisurely horse-drawn trip with military escort is likely to take around half an hour, bringing them back to Buckingham Palace at around 12.30 for a champagne reception hosted by the Queen with up to 800 guests. The official wedding photographs will be taken at this point.
If your chosen place along the route isn't in the immediate area of Buckingham Palace, you've got until 1.30 to get to the Palace now. It's at this time that Prince William and Catherine will appear on the balcony at Buckingham Palace. Prince William's Royal Air Force colleagues will perform a fly-past and we may even our newlyweds kiss for the cameras.
The balcony appearance will be the final public event. After this the reception finishes at 3.30 pm allowing Prince William and Catherine to relax for a short while until 7.00 pm when Prince Charles will host a dinner and dance for 250 close friends and relatives at Buckingham Palace.
The happy couple will probably start their honeymoon the next day, although it's expected that the location for this will remain a closely guarded secret.