Submitted by Paul on Tue, 05/10/2011 - 16:01
Posted in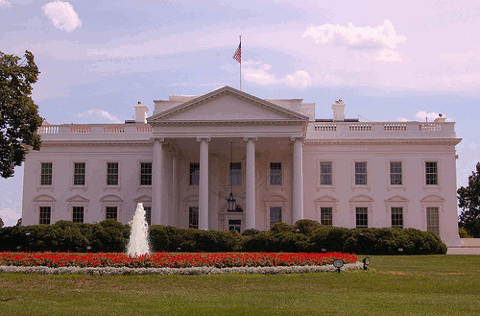 The White House in Washington DC where Prince Charles met President Barack Obama
Photo by
~MVI~
.
Following his thought-provoking speech about environmentally sustainable farming at Georgetown University on 4th May 2011, Prince Charles topped off his visit to Washington later that day with an informal chat with President Barack Obama in the White House's Oval offfice. During a relaxed discussion, Charles praised the work that First Lady, Michelle Obama had done in her campaign against obesity and in favour of healthy eating where she has encouraged large corporations like Wal-Mart to reduce sugars and fats in food. Charles was encouraged that big businesses in the USA are listening and backing sustainable or organic food and locally farmed produce. In return, the president commended Prince Charles' campaigns for sustainable agriculture and his passion to try to stop deforestation.
President Obama congratulated Prince Charles on the marriage of his son, Prince William a few days earlier. Mr Obama asked charles to pass on his best wishes, and told of how the people of the USA had been mesmerized at William and Catherine's wedding. He said he was impressed at how the newlyweds handled the pressure of the day. The president joked that he would not have been able to deal with such a big occasion himself, having only had a relatively small number of 300 guests at his own wedding to Michelle, in contrast with the 1900 guests who were at William and Catherine's wedding, 650 of whom also subsequently attended the lunchtime reception at Buckingham Palace.
On the subject of the United States and UK's special relationship, President Obama affirmed the alliance that he two countries enjoy, and expressed his appreciation for the contributions that UK forces have made in Afghanistan and Libya. Prince Charles revealed how he had been concerned for Prince Harry during the 10 weeks that Harry had served as a Forward Air Controller in Hellmand Province in Afghanistan in 2007. He told the President how Harry was progressing with his Apache helicopter piloting. Mr Obama quipped that the Ipod generation were suited to flying the complex aircraft.
In what will be his first State Visit to a European country, President Obama will be travelling to England to visit Charles's mother, Queen Elizabeth II later in May. The President and First Lady, Michelle, will arrive on 24th May 2011 and leave on the 26th. Whilst in London they will visit Buckingham Palace. The Whitehouse is in talks with Buckingham Palace officials to see if Prince William and Catherine will be free to meet the Obamas during their visit.